Sustainability Spotlight: Solar Industry Awards
September 9, 2010
Solar PV Management Magazine recently announced the winners of their The Solar Industry Awards, which recognize innovative products and manufacturing processes across the photovoltaic value chain that demonstrate technological development towards grid parity while reducing overall cost.
Among the winners are:
The Industry Development Award was given to SolFocus, of Mountain View, CA. SolFocus has developed leading concentrator photovoltaic (CPV) technology that combines high-efficiency solar cells and advanced optics to provide solar energy solutions which are scalable, dependable and capable of delivering on the promise of clean, low-cost, renewable energy.
Success Hill Energy (Australia) received the PV Application Award for a solar lighting system that 'walks smart with you." Through a smart connection between street lights, the installation at one point anticipates the approach and passing of a walker or rider at night, and then signals to the next appropriate light in the direction of travel, increasing the light illumination level at the next solar light. Progressive lighting levels are also based on the speed of the walker or bike rider.
The Thin Film Innovation Award was given to Oerlikon Systems (Switzerland) for their Solaris System mass production tool for crystalline solar cell production. The Solaris is designed for silane free front- and back side coating of crystalline silicon solar cells, which provides a clean technology process for clean technology products.
National Semiconductor's (Santa Clara, CA) SolarMagic smart panel chipset, the Energy Use Enabling Award winner,
maximizes the effectiveness of solar panels under variable light conditions. The SM3320 is also cognitive: the system senses input voltage and current throughout the array and adjusts to achieve optimum string levels.
The SunDriver™ S-600, the world's largest tracking system from SunDriver Systems AG, received the System/Device Integration Award. The SunDriver has a production capacity of up to 100 kWp of electrical energy with a solar module surface area of 650 m².  The SunDriver system meets the highest industry standards on an international scale regarding the foundation, the lightning protection, the mechanics, the electrical components and processes and the communication engineering.
Click here for a full list of winners.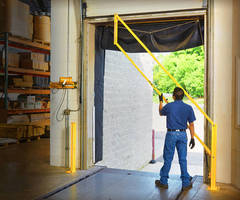 Safety & Security Equipment
Industry Market Trends